Dr. Stefano Berloffa
Child Neuropsychiatrist Doctor taken IRCCS Stella Maris
We are certainly facing a new historical epoch that the Washington Post has defined as the most rapidly spreading age of technology in the history of mankind; just think that the first smartphones now seem to belong to the prehistoric era and the world of technology is evolving at an uncontrollable speed. We have just seen during the Coronavirus pandemic how the technological boom has allowed us to always stay connected and to be able to share everything faster and faster.
The latest data from the Global Digital 2020 highlight about 59% of the world population is connected to the internet with an increase of 7% every year; the data appear more significant in Italy, where, out of a population of about 60 million people, there are 80 million (145%) of mobile contracts. Also in Italy, the average time spent on the internet from any device is about 6 hours.
This technological boom, in addition to the obvious benefits of connecting the world and rehabilitation, has risks .
Official data show that looking at the mobile phone affects the times of falling asleep and creates a dysregulation of the circadian rhythm characterized precisely by difficulty in falling asleep and difficulty in waking up in the morning (Baumgarther E, 2015).
Experts from Eastern countries in particular have highlighted a rapid increase in subjects with a high degree of Internet addiction : most completely lose interest in the outside world, abandon school or work as well as interpersonal relationships, privileging only the online reports. These individuals use role-playing chats or dating sites to establish relationships that they will develop entirely on the internet. Often they lose interest even in interacting with family members to the point of retiring in solitude in their room, in front of the computer, neglecting environmental and personal hygiene to avoid disconnecting as much as possible.
The Diagnostic and Statistical Manual of Mental Disorders (DSM-5) has included, among the conditions that need further study and research, the diagnostic criteria for the' Internet Gaming Disorder-IGD (Distrubo da Gioco in Internet ), focusing on nine elements: worry , withdrawal symptoms, tolerance, loss of control, loss of other interests, overuse despite negative consequences, habit of lying about use, use in times of stress and psychosocial effects.
Internet Use Disorders-IUD and in particular Internet Addiction , represent a rapidly growing phenomenon on a global scale. The most affected age group seems to be adolescents with prevalence rates ranging, in studies, from 0.8% in European populations to 4.9% in Asian countries (Nakayama et al 2017).
But in all this, what can be the strategies to counter this phenomenon?
In countries where the prevalence of IGD is highest, medical and government institutions have developed and disseminated on a large scale, recommendations for the appropriate use of the Internet and prevention programs to be implemented in the school setting.
Asian countries have implemented measures to stem the problem: in China a curfew has been established on video games so young people cannot play from 10pm to 8am and no more than 90 minutes a day. In South Korea, the government has established therapeutic communities and organized counseling in hospitals where adolescents must learn to live without the Internet in order to socialize with other children directly.
But how has the relationship with technology changed at the time of the Coronavirus?
At a time like this, when a virus forces us to cancel live social contacts ( "social recession" ), replacing it with technology-enabled social interactions. In the last few days, every time intermet opens, there are initiatives launched to bring people closer , when we can get closer. We attended the DAD (distance learning), degrees in streaming, the birth of lunches and dinners via social channels, coordinated applause throughout Italy, marathons via live, birthday parties via app. We have also found a way to tell and warn our friends abroad about the real risks of the Coronavirus and the measures to be taken.
The World Health Organization (WHO), together with some of the most important companies in the gaming sector, has launched the #PlayApartTogether campaign. This initiative is aimed at promoting compliance with the rules of social distancing and representing video games as a form of entertainment useful for chasing away boredom and keeping in touch with friends during the long afternoons spent at home, in accordance with what has been established. by restrictive measures.
The quarantine has not only changed "video games", but also video games. For example, the hugely popular Pokémon Go smartphone app from Nintendo which in the past had the goal of capturing monsters by physically wandering around their cities. In times of coronavirus, however, it was necessary to change the game, and turn it into software for exercising at home.
Forced coexistence, confined spaces, video lessons, inability to go out
Teenagers, in these weeks, see their world distorted and with new rules with the risk, more than others, of taking refuge in the excessive use of smartphones and electronic devices.
But what can be the practical advice for parents?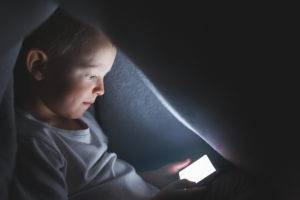 It should be explained to the child what video game addiction is and what it can entail.
Do not be afraid of video games: it is very likely that children know more about the subject and are more avid gamers but they need the support of adults for a conscious and critical approach to this world.
Take the role of model seriously: children and young people who spend too much time playing only respond positively to those who have a credible behavior and therefore do not make excessive use of electronic devices.
Show interest: play with your children and discuss with them. They will be happy with your interest in them and will be happy to explain things that an adult may not understand.
Video games are not a babysitter so sometimes you go back to playing with your children by offering alternatives that are interesting and tempting.
Pay attention to age indications: the PEGI ( PanEuropean Game Information ) guidelines are very useful. The world of games is very diverse: there are different contents intended for different target groups, some not suitable for children and young people because they are linked to discrimination, sexuality, gambling, violence, fear, drugs or language. However, it is important to note that particularly action-packed video games cause high levels of stress in players, which continues for some time after playing. It is therefore advisable to avoid playing these games before going to sleep .
Discuss but don't forbid: define times, contents and duration of the game together with your child ; in this way he will accept the rules and respect them. Conscious management must be the focus of the discussion. Keeping young people away from video games or sensitive content by enforcing or banning often results in the opposite effect.
You can make exceptions: a newly released game has a very strong appeal. During the school holidays, it is okay to let your child play a few more hours or a week of intensive play and a week at a reduced pace or without video games. It is advisable to impose days of total abstinence to ensure that gambling does not become a daily habit or a necessity.
Communicate the end of the playing time a little in advance or rather ask the child to stop at the "end of the level" : "Finish the level, then that's it" This happens above all in online games, where the goal must be reached in group and need the collaboration of several players. You need to keep this in mind when planning play time with your child.
Find out: on YouTube, or other channels, you can search for many tutorials on video games: just enter "How to play (title of the video game)" in the search form and focus on the games that interest your child the most.
Finally, if your child gets bored every now and then, don't make a big deal out of it. Boredom stimulates creativity!
---
References
Technology Use and Sleep Quality in Preadolescence and Adolescence. J Clin Sleep Med. Baumgartner E., 2015.
Treatment and risk factors of Internet use disorders Psychiatry and Clinical Neurosciences Nakayama, 2017.
American Psychiatric Association (APA) (2013), DSM-5. Diagnostic and Statistical Manual of Mental Disorders, tr. it. Raffaello Cortina, Milan, 2014.